Brought to you by Shell at Things I can't Say: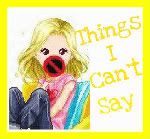 The very first time that I heard the phrase that would become a source of irritation, I was about 7 months pregnant, with a 14 month old perched on my baby bump.
"Oh, you're going to have your hands full."
Why, yes, yes, I'm aware of that.
I heard it numerous times over the next year or so, as I had a baby and a toddler with me practically at all times.
And then, along came baby #3. Yes, THREE boys, all in the span of less than three and a half years.
Now, I can hardly go anywhere without hearing those dreaded words, "You have your hands full!"
Sometimes, I want to snap back and say, "I have them more than full, since I have more boys than I have hands."
Or, "Better full than empty."
Or, "Well, we did want these kids, you know."
I've tried to be the bigger person and just respond, "Yes, I'm very blessed."
But, sometimes I wonder where that remark is coming from. Yesterday, I had all three boys out playing on the beach. They were happily digging in the sand, no fighting, no running away, no whining; they were behaving. I was actually able to sit in my beach chair and read a book.
When, the comment came. "Wow, you certainly have your hands full."
I wanted to snap back and ask why. Because it was a pretty easy day. I was relaxing with my boys.
Not that I want to hear it when I have all three waiting in the pediatrician's office and one of them is crying, while another is running around in circles, and the third just tried to make a dash out the door.
No, I really don't want to hear anything then, either. Unless it's an offer to help.
Yet, it's one of those phrases that people tend to think is just making conversation. But, I'll tell you a secret: moms with multiple kids know they have their hands full. And it can sound like a judgment.
Want to make conversation? You can tell me how well-behaved/cute my kids are or that you love my purse instead. You'll brighten my day and put me in a much better mood for when the next person tells me that my hands are full.
*And don't forget that a little comment love goes a long way in winning a few of my favorite things!
**Wordful Wednesday will go live at 9:00 P.M  PDT.