Welcome to Wordful Wednesday……for more information, see my right side bar:
Today it's Mama Kat from Mama's Losin It being Wordful, and I couldn't be happier.  I mean, she is the Writer's Workshop Maven, so she always has interesting things to say.  In fact, she keeps me laughing on a regular basis.  And not just on her blog.  I'm a lucky duck to have her as a good friend!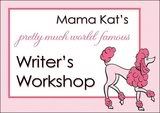 Laina's had an imaginary purple house for about a year now. It's filled with dogs and she often talks about all of the things she can do there that I won't let her do here. Her purple house statements are sporadic and fleeting, but I've been writing them down for my own entertainment purposes:
"At my purple house I went for a walk with Sparkle and Lily and I saw a monster and he be nice to me. I have Sparkle and Lily, I do…on The Diamond Castle they're the same, they are. They're at my purple house."
"I can't use your car cause I'm still a kid. I wanna drive to my purple house cause I wanna pick up Sparkles and Lily and I will come back. I want my own house and my own car."
"Jake's mom has a map to my purple house and he's gonna sneak and get one of my dogs. I better hurry and get Sparkle and Lily."
"Efferyfing in my purple house is broking. Because all da dogs are broking efferyfing."
"It hab a lotta dogs and all my friends can hab one…I mean…I don't hab a lot of friends, I only hab dogs."
"I put milk, juice, an water in a cup at my purple house an give it to my dogs. Sparkles and Lily really like it."
*A little comment love might help you get one of my favorite purses, some of my favorite reads, a favorite bracelet or a gift card! See here for details.