For those who do not already know me, please afford me the opportunity to briefly introduce myself.
My name is Tim and I am the author of Fort Thompson. Fort Thompson was started as a blog about our family for our family. It soon grew into much more and now we use it to share our faith as well as our laughter and tears. So if you enjoy a good cry every now and then, whether through the smiles of laughter or the heartache of sympathy, please stop by Fort Thompson now and then as we are glad to have you.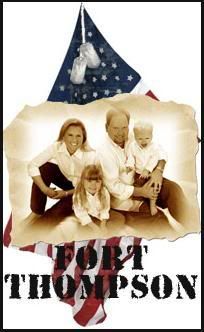 I want to thank those who have written, as well as all who had offered to do so, for your support. I believe that I can speak on behalf of Angie in saying that she is forever grateful to all of you for all you have done. So it is with great honor that I pen the last of several guest posts that Angie has had during her absence.
When I was only 6 years of age I was diagnosed with Epilepsy. For those who might not know, it is a seizure (neurological) disorder. I have grandmal seizures which are the worst kind. Total loss of all body function, consciousness, and memory. I had never had any kind of memory from any of my numerous seizures until that faithful day. More on that later.
Living with this disorder is about allot more than just dealing with seizures. All of my family has endured great stress because of it. I thank God everyday for each of them, as I'm not sure that I would be able to endure what my family has lived through with me.
My sister bless her heart was still just a toddler when I started having seizures. If you have ever seen someone have a grandmal seizure then you know how scary it is. Now imagine a child as young as my sister (3 at the time) having to witness that over and over as it happened to her brother. I can't even imagine it. What I do know is that I cannot put into words how sorry I am for scaring her so. I love her so much and she means the world to me.
This is getting very difficult for me……… breathe.. tissues… ok.
My dad, he is my best friend in the world. He has the softest heart of anyone you will ever meet. He has touched the lives of so many people, and brought more than you could ever imagine to Christ. If my kids get even the slightest bit upset about something you can literally see his heart breaking. I can't even express in words how helpless he must have felt in watching me live with this disorder knowing that there was no way he could take it out of my little body and put it in his. I know that's what he wanted to do. So for all the ways that I haven't the time or space to write about, Daddy I love you. If I can be even a small fraction of the Father to my kids that you have been to me, I will be a HUGE success.
Then there has always been my Mother the Registered Nurse. She has worked in medicine her entire career so she knew from the beginning how serious this was. She is the one that truly is the reason I am here. As a child living in the 70's there were very few if any medicines that were made in liquid form. Most were all tablets or gel capsules. As a child I was not able to swallow a pill and the taste of trying to chew these Epilepsy medicines was just unbearable. So my Mother (God bless her soul) spent many a night on the kitchen floor perched atop my chest as I lay on my back. She would fight with me forcing pill after pill down my throat, all while dripping is sweat, my shirt soaked with her tears and the floor soaked with mine. She did this night after painstaking night, all done out of love so that her only son would live to breath another day. I tell you this just as honestly as I can, this woman of God saved my life on more occasions than anyone will ever know. The things she had to do to keep me by her side no one should ever have to endure. She did all of them without complaint. She is a Mother sent by God, and I thank him everyday that I get to call her mine. She has been there for me everyday, and I write this post today because of her.
Then there came the day that none of us will ever forget. Moments like this become etched in your mind, so deep is there place never to be lost. A day back in the summer of 1984, where I was only a sophomore in high school.
If you would like to read the rest of this story and how God worked a miracle in my life please visit Fort Thompson by clicking here. Please do so only after reading this post!
There is a reason I chose to share this very private part of my life here. I wanted to make sure that I shared with you just as Ang does. She is so courageous in her openness and honesty. Her faith and beliefs are not disrupted by fear of persecution. This character trait has led to many followers, and even more life long friendships. This is a one of a kind lady who we are all very honored to call friend.
So to you Ang,
It is with great honor, privilege, and excitement that we your friends and followers welcome you back to The Circus! We love you much, and you have been missed!
Love and Prayers,
Tim