I started blogging years and years ago, and one of my first blogging friends was Genny Heikka.  Over the years she's left me considerate comments that have meant so much to me, and I've been lucky enough to see her spread her wings as a writer.  Recently she's had a book come out that is about Finding Happiness as a Mother.  Here's Genny to tell us about it:
A new way to read (and what's so exciting about it)
When I started my parenting blog several years ago, I was instantly struck by the sense of community I found online. There was such an openness about all that comes with mommyhood–the good, the bad, the pretty, and the ugly. I loved it, and it inspired me to be more open in my own parenting journey.
It also helped me to find my writing voice.
I was encouraged by women who visited my blog, and I wanted to find a way to bring more moms together and encourage them back.
So I began writing a book about finding mommy bliss (because sometimes in the day-to-day, that bliss can be hard to find, right?).
Many months later, I finished the first draft of Finding Mommy Bliss, which has 20 practical tips on how to find more happiness as a mom. A few years (and many revisions later), I'm excited to share that Finding Mommy Bliss was recently released. From encouragement on pursuing your dreams, to inspiration to stop and enjoy the here and now, there are tips and stories for every mom, regardless of what phase of parenting you're in.
And another exciting thing: Finding Mommy Bliss is available via a brand new reading app called Snippet. In case you haven't heard of it, Snippet is free in the app store and provides a new, multimedia reading experience on iPads and iPhones – sort of a cross between a book and a blog.
Each title in the Snippet library has 1,000 words or less per chapter, along with "discoverables" which are icons that readers can click on to view things like videos (here's an image of the video icon and video that goes with it):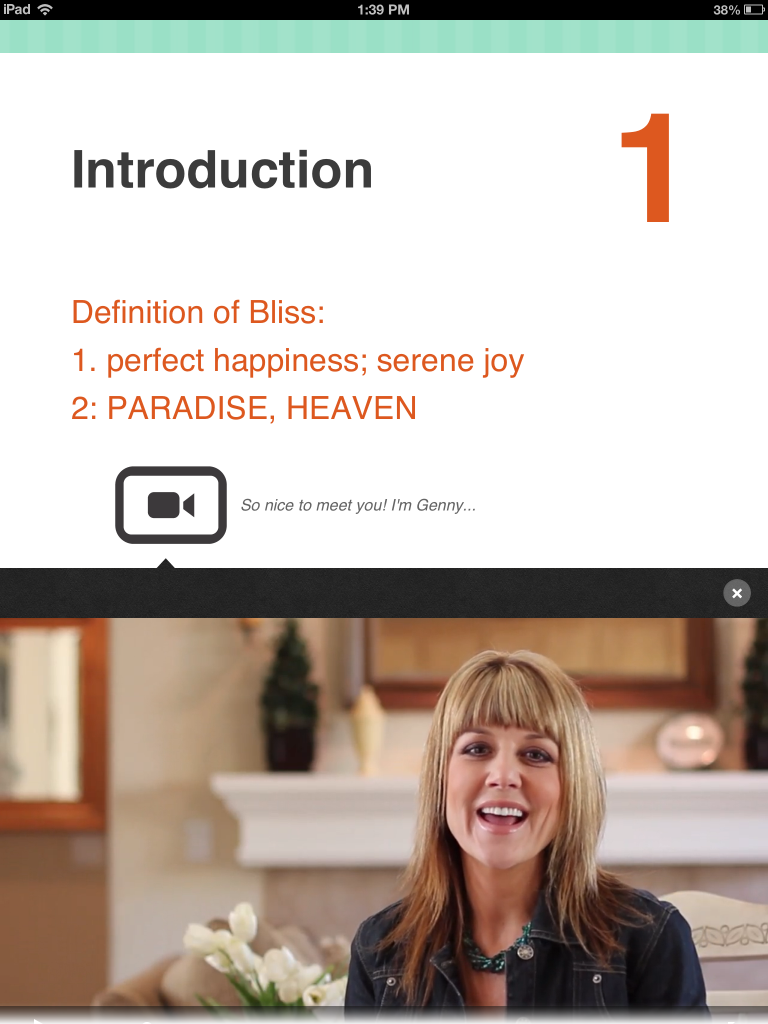 There are also discoverables for things like photographs, audio clips from the author, graphics, and other interactive features.
And one of my favorite things: you can join in on the #mommybliss conversation and be part of my book! (Snippet has a unique social feature that pulls conversations from twitter based on hashtag. So, for example, when someone tweets using the hashtag #mommybliss, their tweet can be seen within Finding Mommy Bliss by readers.)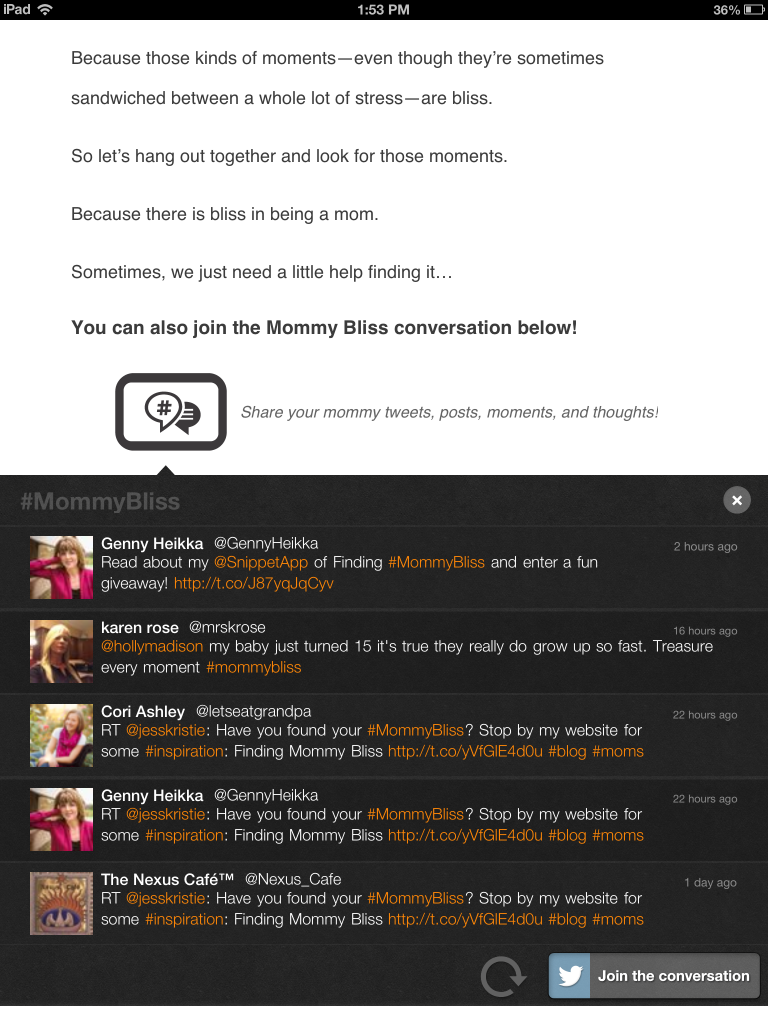 If you're in need of some mommy bliss, you can download Finding Mommy Bliss on your iPad or iPhone for $1.99. Simply download Snippet for free here: http://appstore.com/snippetapp and you will find my book in the Snippet library. Enjoy!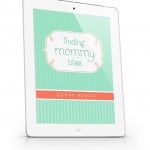 Genny lives in Northern California with her husband and two kids, where she balances writing with motherhood and loves both. She's an author, speaker, blogger and coffee lover. Stop by her blog and share a cup!
To find out more about Genny's Snippet of Finding Mommy Bliss, click here. Or to download it, click here.